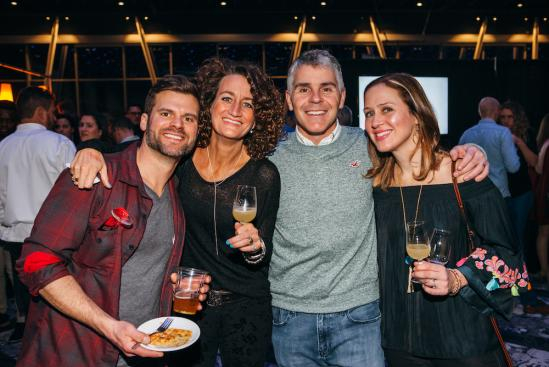 Thursday, February 28th, 2019
Halifax Convention Centre
7:00pm - 9:30pm
$109.25 (HST included) General Admission
Must be 19 to attend event.
BUY TICKETS
The food and wine event of the year! Let the connoisseur in you shine at the Savour Food & Wine Show, Atlantic Canada's premier food and wine event! In its 16th year, the event showcases over 70 of Nova Scotia's finest restaurants, wines and beverages. Take in the evening and let your taste buds run wild as you explore samples of delectable foods, legendary cocktails and fine wine presented by Nova Scotia's finest.
Hotel Packages
Prince George Hotel
Prices from $279
Includes 2 tickets to the event, Deluxe guestroom accommodations, free wifi and a late checkout of 1PM the next day.
1-800-565-1567
https://www.princegeorgehotel.com/


Cambridge Halifax
Prices from $259
Includes 2 tickets to the event, Studio accommodations, free breakfast and wifi and a late checkout of 1PM the next day.
1-800-565-1263
https://www.cambridgesuiteshalifax.com/
Lord Nelson Hotel
25% off regular hotel rates
1-902-423-6331
https://lordnelsonhotel.ca/
Our Valued Exhibitors:

Antojo Tacos + Tequila
Arterra Wines Canada
Avondale Sky Winery
Authentic Seacoast
Barrelling Tide Distillery
Barrington Steakhouse
Bishop's Cellar
Blomidon Estate Winery
Boxing Rock

Café Chianti
Caldera Distillery
Campari
Cape Cliff Dining Room
Casa Nova Fine Beverages
Chameleon Café

Cocoa Pesto
Coldstream Clear
Compass Distillery
Crystanny's Brasserie
Dandurand Wines
Delectable Desserts
Domaine de Grand Pre Winery
Durty Nelly's
Eisenhauer Agencies
Franklin Imports

Fresh 21 NSCC
Gahan House
Garrison Brewing
Grand Banker Bar & Grill
Grounded Coffee Bar
Gio

Halifax Club
Hamachi Kita
Hamachi Steakhouse
Harbour City Bar & Grill
Hop Yard
Innovative Beverages

Kiju's
Le Bistro by Liz
Lot Six
Mark Anthony Brands
Mer et Soleil
Mercator Vineyards
Molson Coors
Muwin Estates Wines & Bulwark Cider
NSLC

Nine Locks Brewing
Nova Coffee

Nova Scotia Spirit Company

PMA
Piatto Pizzeria & Enoteca
Pineapple Bytes
Planters Ridge Winery

Propeller Brewing Co.
Rasa Flavours of India
Sea Smoke
Seasons by Atlantica
Sober Island Oysters
Steinhart Distillery Limited
Still Fired Distillery
Stubborn Goat Gastropub
Stubborn Goat Beer Garden
Tanner & Co. Brewing
Tatamagouche Brewing Company
Tempo Food + Drink
The Carleton
The Old Triangle
The Press Gang
The Sou'Wester
The Watch That Ends the Night
True North Seafood
Univins
Upstreet BBQ Brewhouse
With Zest
...AND MORE!!!